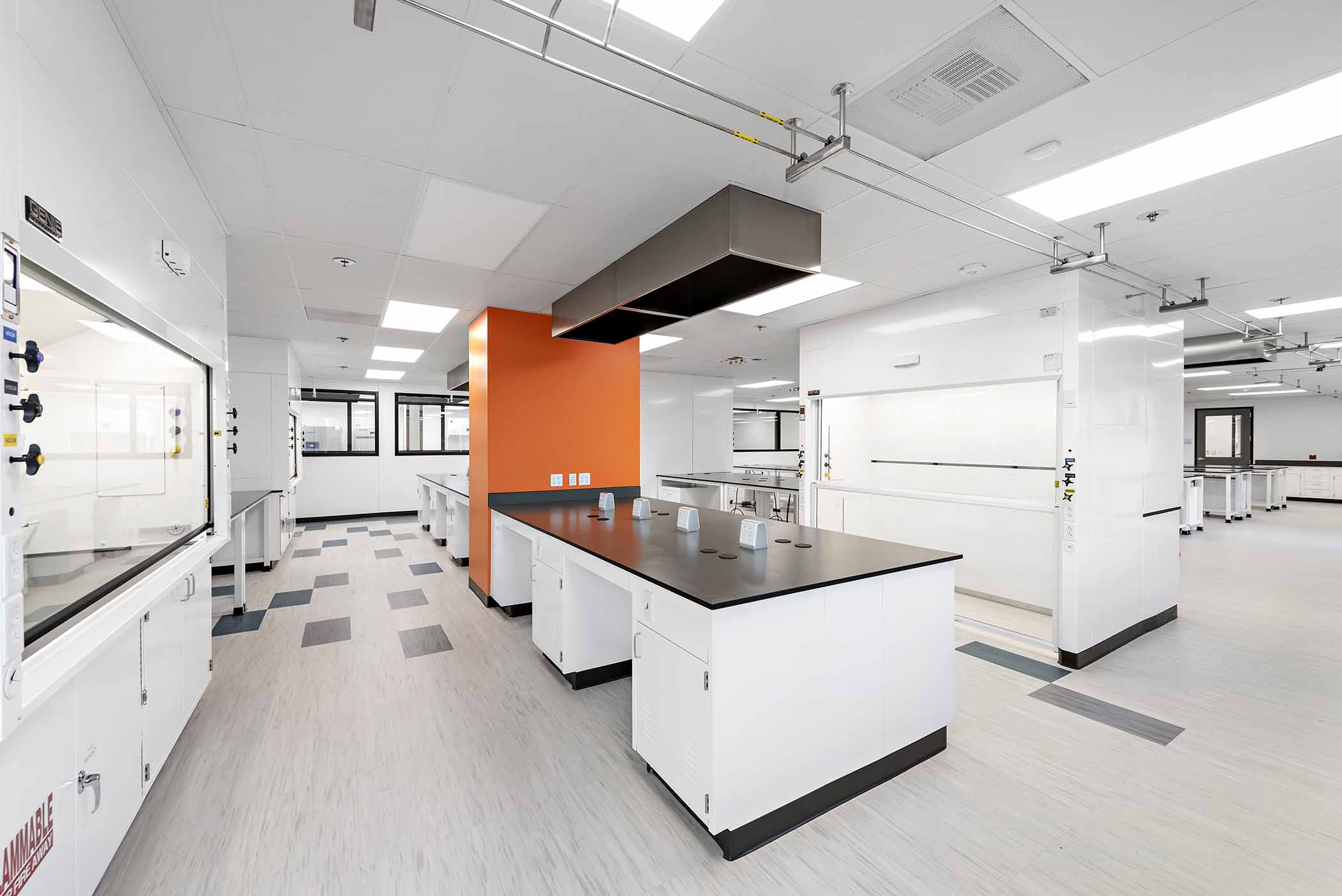 When building your lab, you want to make sure you choose the right equipment that is best suited for your needs. At Genie Scientific, we offer multiple fume hood designs tailored to use. In this article we examine one of our most sought after fume hoods, the bench top fume hood. Genie Scientific's Vice President of Operations, Garrett LeVan, addresses how to choose the correct fume hood, while walking us through the building and pricing process.
How can clients get started in deciding which fume hood is right for their lab?
One of the main starting points when determining what fume hood is right for the customer is their required interior working dimensions. What is the internal height, width, and depth you need to safely perform the experiment inside the fume hood?  Measure out the footprint of your equipment and apparatus that will be going in the hood.  You also want to keep in mind any plans for the future, you want to have the flexibility to expand without overloading the hood.
Does Genie offer different size options for a bench top fume hood?
We offer our bench top fume hoods in six standard widths and three standard depths, so it gives the client a lot of flexibility even within our standard product line. You can find a link to our specific sizing here.
What is the most common sash type for a bench top fume hood?
A vertical rising sash is the most commonly ordered for bench top fume hoods. It is less expensive than other styles due its simplicity.  Our Vertical Sash is driven by our PowerLink™ chain and sprocket counter balance system back by a never-fail LifeTime Warranty.
What is the next step after deciding on sash style?
After you pick your sash style, we want to talk about the interior liner. This is the inside lining of the fume hood that comes in direct contact with the chemicals, vapors, fumes etc. that you're working with during your experiment. Our standard liner material is our ChemTough™  fume hood liner. It is a superior general-purpose liner made from phenolic resin and has excellent resistance to a broad range of chemicals; it is also fire rated. This liner is structurally sound, so you can screw things directly into it and you don't need to worry about damaging the hood.
Do you offer any other types of liners?
We offer stainless steel, polypropylene, and more. 
What other variants do you need to take into account when creating the fume hood?
Airflow requirements are the most critical. You must identify what type of airflow requirements, as well as the exhaust and bypass type you want in your fume hood. There's two distinct positions on a fume hood. The first is when the vertical sash is fully open– that's called set up position. This becomes the maximum opening to allow the loading of the fume hood. (It's important to double check this measurement and make sure your equipment is not greater than the opening measurement, so you can load your items properly.) The second is the operating position, that is the position of the sash when the experiment is being performed.
Depending on your airflow needs and operating position, you then choose from two bypass types on your fume hood. There is the option of open bypass constant volume exhaust system, which is the most common for labs. The other option is a restricted bypass that goes with a variable air volume exhaustive system. A VAV (variable air volume) is an exhaustive system that typically maintains fume hood face velocity by adjusting lower motor speeds, in response to changes in sash position. This type is normally used when there is a multitude of hoods at a facility, as it becomes expensive to run on a singular fume hood.
What aspects affect the cost of the fume hood the most?
The items that can have the greatest cost impact are the fume hood accessories.  There are many options for electrical, plumbing,
A bench top fume hood sits directly on top of base cabinet.  You can select from a simple welded table frame to specialty storage cabinets for acids or flammable solvent storage with self-closing doors.
Table Frame – A welded 4 leg tube table
Standard Base Cabinets – Steel cabinets with 2 doors and a shelf
Corrosive Storage – Steel cabinet with a molded one-piece polyethylene liner so safety store Acid or Bases.  Cabinet can be vented into the fume hood if desired
Vacuum Pump Cabinet – Steel cabinet designed to house a vacuum pump. The unit is sound deadened and has outlets to power the pump
Flammable Cabinet – Double wall steel cabinet with self-closing doors to protect flammable chemicals from a fire in the lab
You can read more about our bench top options here.
Next, we look at plumbing options. Fixtures are factory mounted on the hood and plumbed with hard copper pipe so the plumber in the field can make a quick and easy final connection.  Standard fixtures are for compress air, gas, nitrogen and cold water.  Specialty fixtures for pure water and steam are available with a variety of outlets.
 The standard electrical package for our hood comes with:
(2) 120V-20AMP GFI Duplex Outlets
(1) Light Switch wired to vapor proof T8 florescent light fixtures
(1) Blower Switch with illumination pilot light
(1) Analog Airflow Monitor
All items are prewired to a junction box on top of the hood making life easy for the electrician to make the final connection to the building power. We can install any type of electrical on the fume hood and wire it to a junction box. We also offer explosion proof fixtures for class 1 division 1 environments.
After all these decisions have been made based on the clients needs, the information is handed to our estimator team where a quote will be built and given to the client.