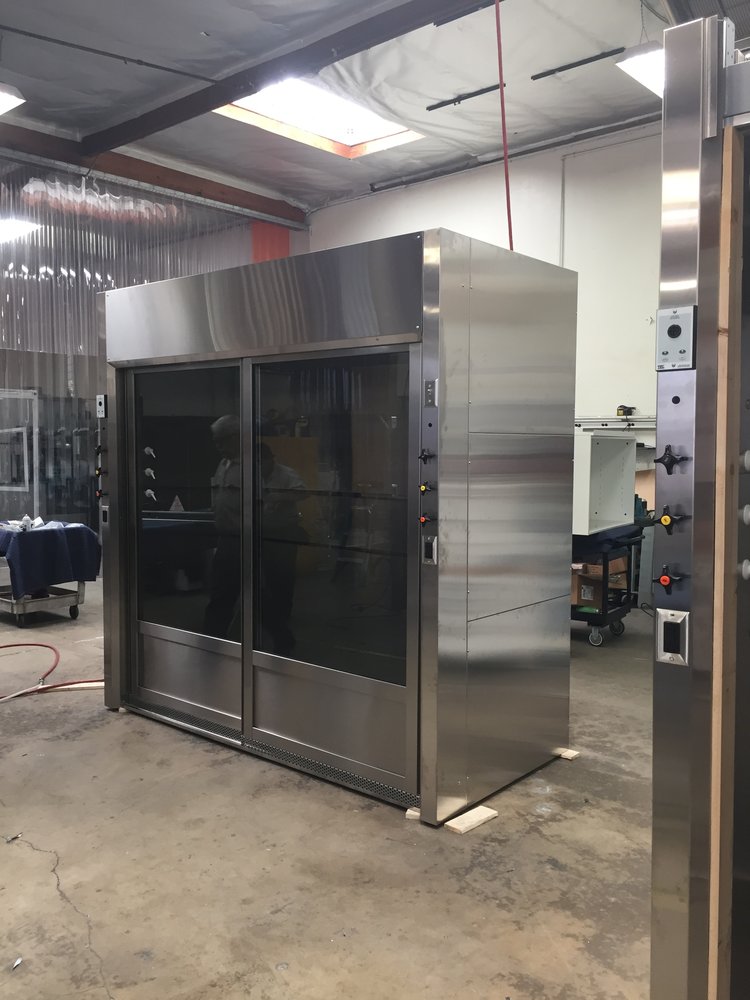 One of our most desired fume hood is the floor-mounted, walk-in hood. Below our VP of Operations, Garrett LeVan talks specifications such as StillSafe, Powerlink, and DirectConnect, while shedding light on other variants that are important to take into account when designing the best possible walk-in fume hood for your lab.
What's the first thing a client should consider when designing a fume hood?
Walk-in hoods are characterized by a tall and deep chambers, and meant to contain large equipment. As with other hoods, the main starting point is identifying the clients working dimensions: height, width, and depth needed to safely perform the experiment. We take that and source materials to safely conduct the experiment, such as what kind of sash will work best. Finally decide on electric, plumbing, and accessories needed.
What are the specific offerings of a walk-in (floor-mounted) fume hood?
Our floor-mounted fume hoods sit directly on the floor and are designed for large apparatus set ups and roll in equipment. Building extra large and custom walk-in hoods is a specialty of Genie. Below are a few specifications found in our walk-in, floor mounted fume hoods.
StillSafe ™ Horizontal sliding doors that hang from a heavy duty iBeam via rugged jump proof carriers for enhanced ease of use and safety. This significantly reduces the worry of broken or gunked-up lower track wheels.
Powerlink™ A robust chain and sprocket sash counter balance system that we guarantee will never fail.
DirectConnect™ All of our hoods are fitted with a simple round exhaust collar for connection to building HVAC. There's no complicated or expensive ductwork transition pieces needed, just a simple round connection.
Does Genie offer different sizing options for a floor-mounted fume hood?
Yes, we offer our floor-mounted fume hoods in six standard widths and four standard depths. This allows our clients the ability to stay within a standard product, instead of a custom item at a higher cost.
What is the most common sash type for a floor-mounted fume hood?
Our Slidesafe ™ Horizontal sash is most common for these types of hoods. With them we have horizontal sliding doors that hang from a heavy duty iBeam via a rugged jump-proof carrier.
What is the next step after deciding on sash style? 
What other variants do you need to take into account when creating the walk-in fume hood?
As with the other fume hoods, airflow is very critical. You must identify airflow requirements of the experiment, exhaust and the bypass type needed. We also ask our clients, no matter what kind of fume hood they are purchasing, to double check the maximum opening requirements. This is the unit measurement of whatever equipment is needed inside the fume hood. The set up position of your fume hood is when the horizontal sash is fully open and the maximum opening measurement must match the measurement of whatever equipment will be needed for the experiment.
After deciding on the sash style for your floor-mounted fume hood we need to look at the liner material. All of our fume hoods are powder coated and superstructure galvanized, while the interior of the fume hood is lined with a material that's dependent on your experiments needs. These aren't specific to fume hood style, necessarily, but more so the chemistry within the fume hood.
Depending on your airflow needs and operating position, you then choose from two bypass types on your fume hood. There is the option of open bypass constant volume exhaust system, which is the most common for labs. The other option is a restricted bypass that goes with a variable air volume exhaustive system. A VAV (variable air volume) is an exhaustive system that typically maintains fume hood face velocity by adjusting lower motor speeds, in response to changes in sash position. This type is normally used when there is a multitude of hoods at a facility, as it becomes expensive to run on a singular fume hood.
What aspects affect the cost of the walk-in hood the most?
Since a walk-in fume hood doesn't sit on any objects, we can remove the cabinet accessories from the equations and move straight to plumbing and electrical necessities. Plumbing is very specific to the needs of your experiment and the location of your fume hood.
As for electrical, we offer a standard package with all of our fume hoods. This includes a blower switch, a light switch, 220 volt GFI duplex, vapor proof T8 florescent light fixtures and an airflow alarm. This comes standard with all floor-mounted fume hoods and can wire to any junction box. We also offer explosion proof fixtures for class 1 division 1 environments.
After all these decisions have been made based on the clients needs, the information is handed to our estimator team where a quote will be built and given to the client.