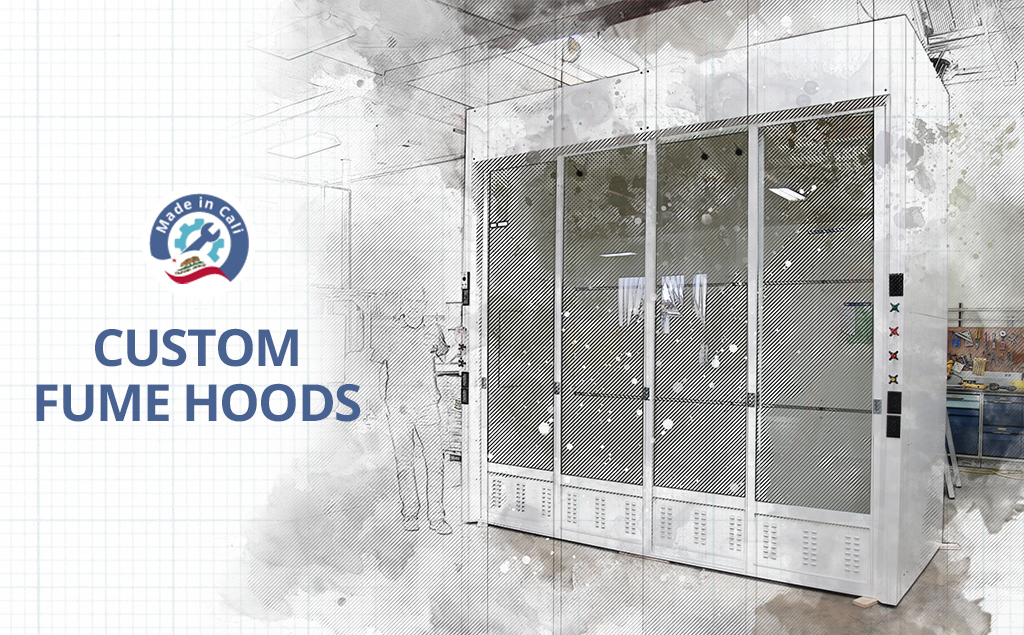 Laboratory equipment is an important part to any lab and choosing the correct equipment to install is based upon the scale of work and type of industry you are in.  Genie Scientific excels in Custom Fume Hoods and loves working with clients in creating their custom laboratory.  Genie Scientific thrives in Custom Fume Hoods but does offer 6 Standard Bench Top Fume Hoods as well as 6 Standard Floor Mounted Fume Hoods if one does not choose custom work.  Genie Scientific is number one in design, fabrication, and ventilated enclosures when it comes to Custom Fume Hoods.  
When choosing Custom Fume Hoods it is crucial that Genie Scientific is manufactured in California.  This allows for savings in cost with shipping, guaranteed quality of work, as well as the flexibility to adapt to last second updates, changes and/or modifications.  Genie Scientific is customer service focused and delivering on time is a staple of the company.  
There are major benefits of having Genie Scientific manufacture your Custom Fume Hood.  Genie Scientific is able to meet the specifications, requirements, dimensions and criteria that you are exactly looking for.  Genie Scientific provides unique sash options, stainless steel exteriors and interiors, custom pass-thru hoods, custom distillation fume hoods, and guarantees their custom hoods and enclosures meet safety requirements and approval for C1-D1/D2 Classified Environments.  Another benefit includes the ability to build enormous Floor Mounted (Walk-In) Fume Hoods that are extra tall, extra wide, and extra deep.  The precision in which Genie Scientific manufactures their Custom Fume Hoods is unrivaled.
When working with Genie Scientific in creating your Custom Fume Hoods, the features that Genie Scientific brings to their work is impressive.  Genie Scientific used the most durable general purpose fume hood liner on the market – ChemTough™.  The Custom Fume Hoods come with a robust chain and sprocket sash counterbalance system that will never fail – Power Link.  Their SlideSafe technology helps provide extra safety as you will not have to worry about broken or gunked-up wheels.   The interior is SpillSafe™ as the work surfaces are dished to safely spill. An important set of features that Genie Scientific provides is their AirDirect and Direct Connect airflow and exhaust connection.  The safety and user friendly features are invaluable.  
Genie Scientific works closely with each client and provides an easy walk through when ordering their Custom Fume Hood.  The process is simple.  The first step is identifying the interior working dimensions.  This is the space in which you would like to build your lab.   The next step is calling Genie Scientific for a free consultation.   714-545-1838
Here is a brief video on Custom Fume Hoods and Genie Scientific features. 
https://www.youtube.com/watch?v=8Az4TAZrCzc&feature=youtu.be
To view Genie Scientific's catalog on Fume Hoods to see which Fume Hood you like, please visit  https://geniescientific.com/catalogs/