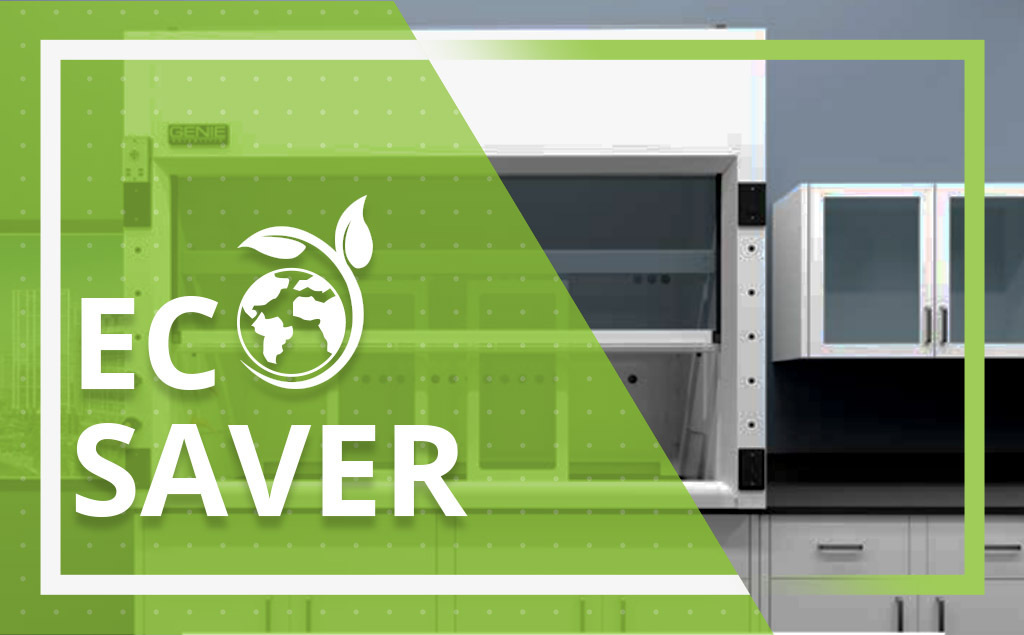 Eco-Saver Fume Hood
Genie Scientific is the leader in laboratory equipment.  From conception to manufacturing to delivery, Genie Scientific works with the community in creating state-of-the-art laboratories.  There are a variety of benefits that result from this level of commitment, and one of the most important is Genie Scientific ability to innovate.  Genie Scientific spends time researching, developing, and listening to feedback from the community and industry to push laboratory innovations.
One of these key innovations is Genie Scientifics Eco-Saver Fume Hood.  The Eco-Saver is a one of a kind Fume Hood.  It comes in 6 standard widths and 4 standard depths but Genie Scientific can custom build their Eco-Saver to fit any laboratory – any width and any depth.  
What makes the Genie Scientific Eco-Saver so much better?
Genie Scientific Eco-Saver is a fume hood that has an extra layer of safety as well as an energy saver without loss of capabilities.  The Eco-Saver is fit with a safety shield.  This safety shield is fitted to the opening of the fume hood and protects the user from any fumes, toxins or possible accident that may arise.  The safety shield is the perfect solution for safety and user-friendly access.  The safety shield is easy to remove and place back.  There is no compromise to the fume hood capabilities or the usability of the fume hood with this added feature.  The Eco-Saver safety shield also doubles as a green hood.  The Eco-Saver uses less energy due to the smaller opening.   It uses about 40% less energy which lowers the overhead created by running the fume hoods.  Multiply this by multiple fume hoods and the savings can be tremendous.  Genie Scientific Eco-Saver Fume Hood is not only levels ahead in safety, but you're adding revenue due to energy savings.  
Genie Scientific Eco-Saver also comes with their amazing standard features.  These 6 features are the following : ChemTough, PowerLink, SlideSafe, SpillSafe, AirDirect and DirectConnect. Genie Scientific is also UL Listed, ASHRAE Tested, as well as members of SEFA and CAL OSHA.
Genie also offers special use bench top hoods (call us for more information)
– Student Viewing Hoods

– Radioisotope and Perchloric Acid Fume Hoods

– Pass-Thru (Double-Sided Hoods)

– Polypropylene Plastic Fume Hoods

– Fume Hoods for C1-D1/D2 Environments

– ADA Accessible Fume Hoods
To learn more about the Eco-Saver contact to at 714.545.1836