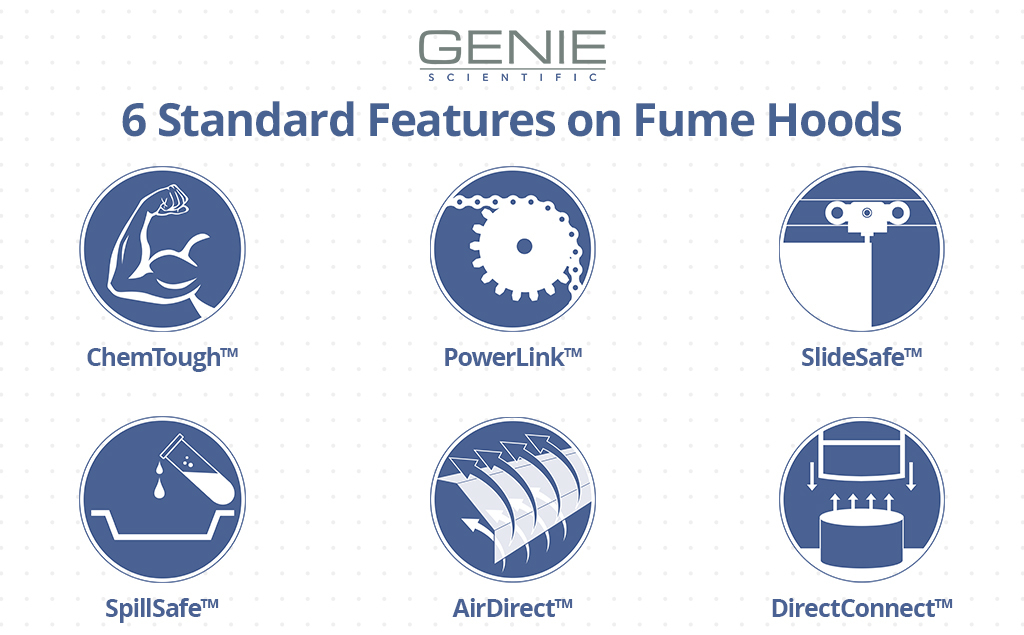 Genie Scientific is located in Fountain Valley, California and manufactures laboratory furniture.  We provide standard options but we thrive in custom work too!  Genie specializes in fume hoods and provides 2 options – benchtop and floor mounted (walk-in) fume hoods.  Both options come in 6 standard widths and 4 standard depths, or one is able to customize the size to their fits and needs.  What is important to remember about Genie Scientific is that all of our equipment comes standard with 6 amazing features – ChemTough, PowerLink, SlideSafe, SpillSafe, AirDirect and DirectConnect.  
Each of Genie Scientifics 6 Standard Features are important in providing the scientists the best possible work environment.  The safety of everyone involved is an important factor that Genie Scientific takes seriously.  The first feature is ChemTough.  There are cheaper options available and while you may save a few dollars, ChemTough is the most durable general purpose liner out there and where safety is concerned, Genie does not cut corners.  The second feature is called PowerLink.  This is a robust chain with a sprocket sash counterbalance system.  Genie Scientific stands behind the quality of our work and guarantees that this system will never fail.  The third feature is called SlideSafe.  SlideSafe are horizontal sliding doors that hang from a heavy duty iBeam.  We also use jump proof carries for a much user friendly experience.  This also increases safety as there is no more worrying about broken or gunked-up lower track wheels to cause problems.  Genie Scientific pays close attention to detail and a feature as simple as SpillSafe is crucial in maintaining a proper workflow and keeping safety measures in place.  SpillSafe refers to the fume hood work surface being dished to safely contain any spills inside the hood.  The inside of fume hoods is extremely important to have proper equipment as well as ventilation.  This is why Genie Scientific has their AirDirect flow technology.  Genie's benchtop and distillation hoods are fitted with an aerodynamic airfoil to direct air across the work surface ensuring floor sweep.  This feature helps improve the safety of the scientists and workers.  The 6 Standard Features that Genie Scientific has on fume hoods is our DirectConnect feature/  DirectConnect allows for the most convenient and easy to use connection on the exhaust collar.  No complicated or expensive ductwork transition pieces needed.  
These 6 features come standard with Genie Scientific because we understand the level of work needed to maintain a proper laboratory. Genie Scientific Floor Mounted Walk-In Fume Hoods are UL 1805 Listed, OSHA compliant, and ASHRAE 110 tested.  Genie Scientific is also proud to be a member of the Scientific Equipment and Furniture Association.  
To learn more about our 6 Standard Features or more, contact us at 714-545-1838