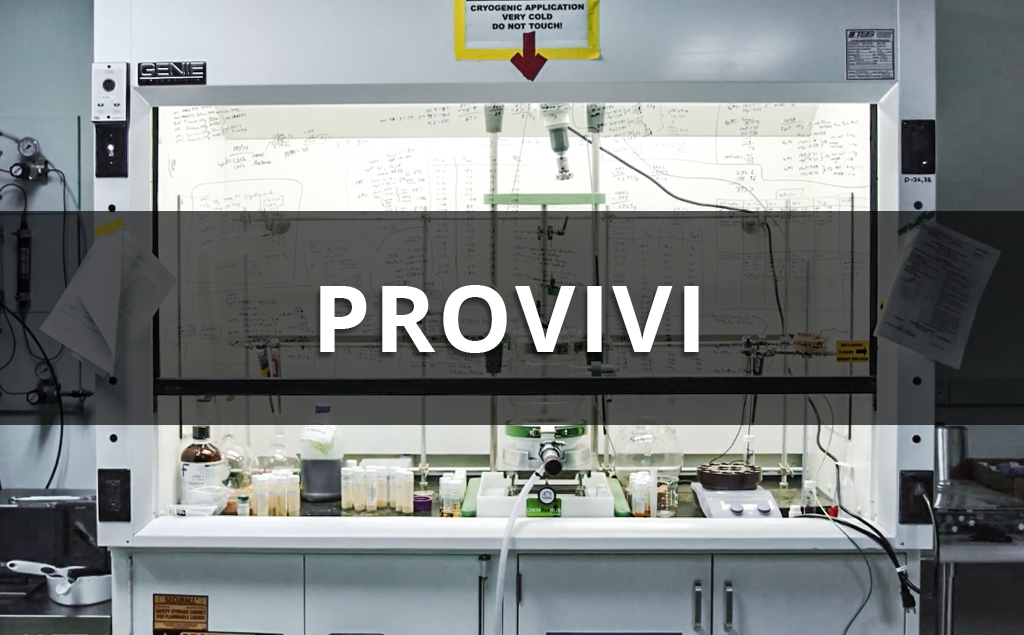 Provivi is a company founded in 2013 by 3 incredibly gifted and passionate people.  Professor Francis Arnold has her Ph.D in Chemical Engineering and has a list of accolades that span from designing solar
energy facilities for remote locations to help write United Nations position papers.  She won the Nobel prize in 2018 in Chemistry and is a key figure at Provivi. 
Pedro S. L. Coelho has his Ph.D. in Chemistry from the University of Oxford and is credited to having discovered and developed biocatalytic olefin cyclopropanation – a crucial component in what is implemented at Provivi. Peter Meinhold has his Ph.D in Biochemistry and has over 13 years of experience in research and development of biotechnology for fuels and chemical production.  He holds 9 patents with dozens more pending and is recognized by MIT as one of the world's leading innovators.  They came together to create Provivi – a revolution in pest control.  
Provivi is leading the way in pest control by implementing revolutionary technology that uses the insects own pheromones against them.  Kyle is an assistant scientist at Provivi and provided more information.
"Provivi provides sustainable pest control for a wide variety of crops.  Some of those crops include rice and corn.  What sets Provivi apart are the methods used to synthesize the pheromones along with the markets that we've chosen to enter, " said Kyle.  
Provivi has chosen to help the daily lives of human society.  They entered into helping farmers create better business practices that in return help protect our food supply from toxic residues.  Provivi allows for pest control without pesticides.  The natural use of the insects' own pheromones creates a friendly eco-system while driving out unwanted pest intruders. Provivi works hard in empowering the next generation to grow food more sustainably.   
"In terms of the community, Provivi also enters developing and emerging markets to provide them safe and sustainable food on a larger scale than ever done before," said Kyle.  "By working hand-in-hand with farmers, we're able to tailor our product directly to their needs and specifications."  
Provivi takes all the steps necessary to create a working environment that is conducive to the best working conditions possible.  Provivi cuts no corners when dealing with equipment that is at the highest quality possible.  This is one of the reasons Provivi went with Genie Scientific in building their custom lab furniture.
"Some of that technology includes these walk-in fume hoods created by Genie Scientific.  Working with Genie Scientific made our jobs here a lot easier.  In the formulations group and the synthesis group, we work at a higher scale than traditional fume hoods allow for.  So it's very helpful to have the walk-in fume hoods," said Kyle.  "We are able to handle the proper scale of material that we need to use.  Genie Scientific tailored the fume hoods completely to our needs in allowing us to conduct the important work that we need to do here at Provivi."
Genie Scientific understands the value of craftsmanship and quality.  Genie Scientific goes above and beyond expectations in manufacturing, customer service and in their ability to create custom fitting furniture.  Labs have strict policies and regulations for equipment and Genie Scientific meets all of them.
Provivi is the leader in pest control but their technology will be expanding to other industries.  They are committed to controlling and monitoring pest populations in order to target the pests they do not want to affect the crops.  Brilliant minds have joined forces in order to provide the world with sustainable food.
Visit
www.geniescientific.com
for more information on custom built lab furniture and equipment.