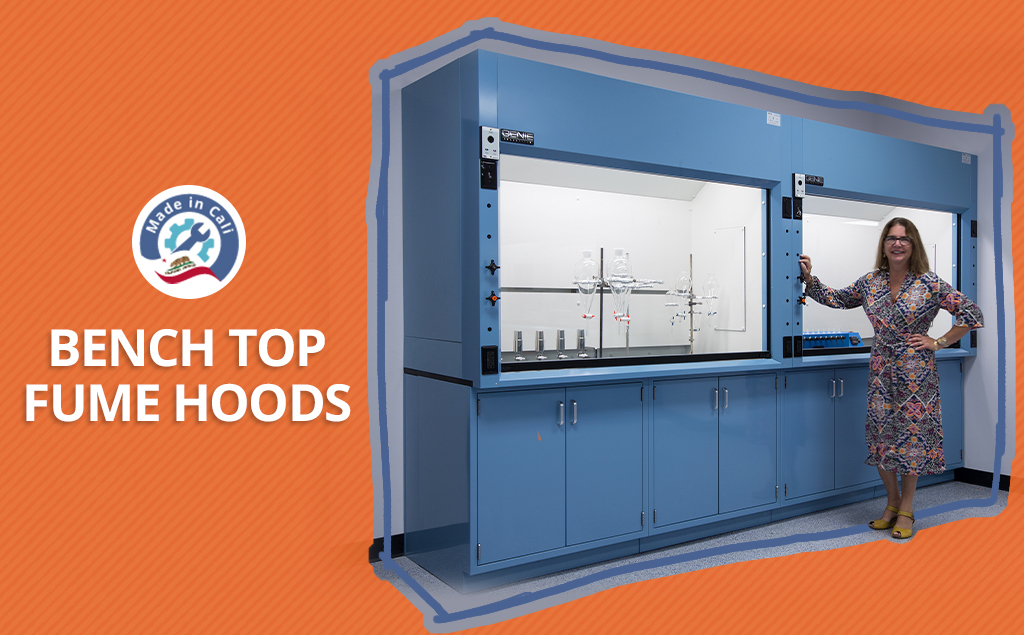 Bench Top Fume Hoods are the most common fume hoods on the market.  Genie Scientific is the leader in installing, developing, and customizing Bench Top Fume Hoods.  Bench Top Fume Hoods are installed on the top of lower base units as well as on top of most typical base cabinets.  Genie Scientific offers their SlimLine Bench Top Fume Hoods in 6 standard widths and 4 standard depths.  A major benefit to working with Genie Scientific is they also offer custom bench top fume hoods to fit the needs and specifications of the client.  Genie Scientific is made in California which is instrumental when working with clients and custom work.  The ability for Genie Scientific to pivot and adapt to the clients needs is valuable in streamlining the project and delivering on time.  
When choosing a Bench Top Fume Hood, Genie Scientific takes you through the entire process.  Based upon your business, the type of chemistry, equipment, and interior work space, Genie Scientific works with you in choosing the correct and proper Bench Top Fume Hood.  Genie Scientific's Bench Top Fume Hoods mounts on most cabinets or Genie Scientific will create a custom Bench Top Fume Hood for you.  Genie Scientific will then go through the variety of options when selecting the sash style.  The "sash style" refers to the sliding panels that allow the scientists to conduct their work.  There is a wide variety that range from Vertical, Horizontal, Combination, Split, SideSafe Horizontal, and Vertical Rising.  Upon choosing the correct sash style, the next step is the interior liner material.  Bench Top Fume Hoods by Genie Scientific comes standard with ChemTough, the most durable, general purpose fume hood liner on the market.  Bench Top Fume Hoods also have the ability to use Stainless Steel and Polypropylene.  These options are not as beneficial and durable as the ChemTough that comes standard and provided by Genie Scientific.  After choosing the interior lining for the Bench Top Fume Hood, creating the perfect air flow is crucial in laboratories.  Bench Top Fume Hoods have two distinct sash operating positions, exhaust and bypass. Implementing the correct airflow ensures better protection of scientists and helps reduce the amount of supply air needed from your HVAC system.  Genie Scientific works closely with you in choosing the correct airflow for your Bench Top Fume Hood.  The final step when working with Genie Scientific and Bench Top Fume Hoods is choosing your accessories.  From base units, plumbing, electrical, exhaust blowers and specialty equipment (such as Secondary Containment Trays, Cord Ports, Ceiling Enclosure Panel, Distillation Racks and Sash Stops.  Genie Scientific also offers a diverse set of colors for you to choose from.
Genie Scientific is the leader in Bench Top Fume Hoods and in being so, provides industry leading standard features.  This includes PowerLink™ (Robust chain and sprocket sash counterbalance system that will never fail),  SlideSafe™ (Horizontal sliding doors that hang from a heavy duty iBeam via rugged jump proof carriers for enhanced ease of use and safety), SpillSafe™ (Fume Hood work surfaces are dished to safely contain spills inside the hood), AirDirect™ (Bench Top Fume Hoods and distillation hoods are fitted with an aerodynamic airfoil to direct air across the work surface ensuring floor sweep for safe operation), and DirectConnect™ (All our hoods are fitted with a simple round exhaust collar for connection to building HVAC). 
To learn more on Bench Top Fume Hoods and Genie Scientific, contact us at 714-545-1838 or https://geniescientific.com/bench-top-fume-hoods/