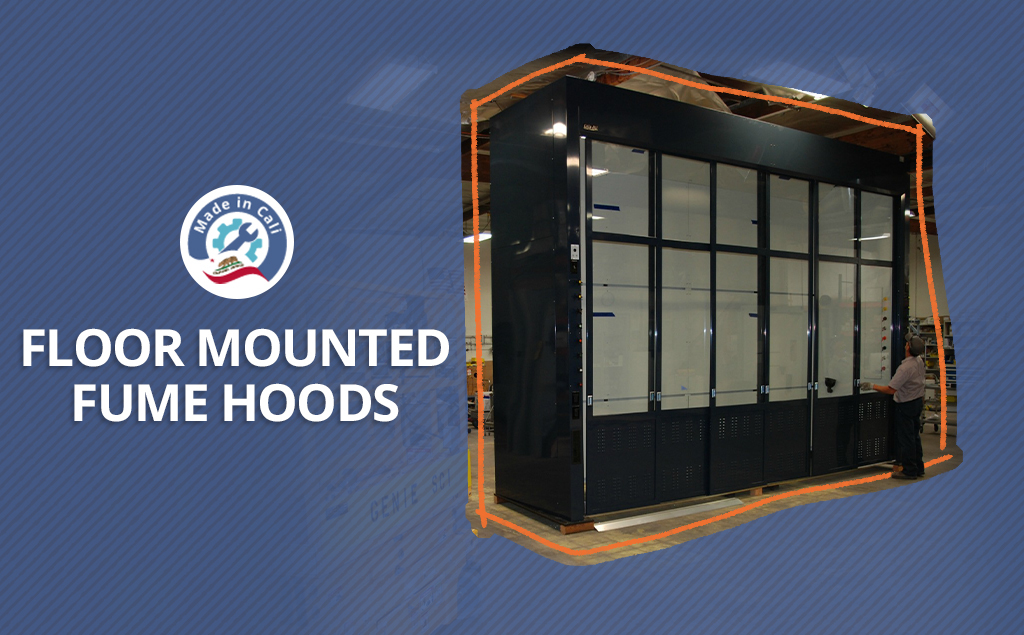 Floor Mounted Walk-In Fume Hoods are commonly known as Walk-In Fume Hoods, as one is literally able to "walk-in".  We specialize in custom work but also offer 6 standard widths that come in 4 standard depths. This means our Floor Mounted Walk-In Fume Hoods are the perfect fit for any laboratory.  No matter the size of your experiment.  Our Standard and Custom units are UL1805 Listed and ASHRAE 100 tested. Our Floor Mounted Walk-In Fume Hoods also feature our 6 must-haves that come standard.  Our Floor Mounted Walk-In Fume Hoods are ChemTough, SpillSafe, and carry our PowerLink, SlideSafe, AirDirect and DirectConnect technology.  
ChemTough is the most durable general purpose fume hood liner on the market and comes as the standard option on Genie Scientific Floor Mounted Walk-In Fume Hoods.  The PowerLinkTM Robust chain and sprocket sash is the perfect counterbalance system and is guaranteed by Genie Scientific to never fail.  SlideSafeTM horizontal sliding doors hang from a heavy duty iBeam via rugged jump proof carriers for enhanced ease of use and safety. No more worrying about broken or gunked-up lower track wheels.  SpillSafeTM Fume hood work surfaces are dished to safely contain spills inside the hood.  AirDirectTM Benchtop and distillation hoods are fitted with an aerodynamic airfoil to direct air across the work surface ensuring floor sweep for safe operation.  DirectConnectTM is used in all hoods and is fitted with a simple round exhaust collar for connection to building HVAC.  No complicated or expensive ductwork transition pieces needed, just a simple round connection.  
Genie Scientific keeps your safety in mind and therefore makes sure to have all procedures in place and 3rd party inspectors to verify the level of work.  Genie Scientific Floor Mounted Walk-In Fume Hoods are UL 1805 Listed, OSHA compliant, and ASHRAE 110 tested.  Genie Scientific is also proud to be a member of the Scientific Equipment and Furniture Association.  When Genie Scientific builds a Floor Mounted Walk-In Fume Hood, Genie Scientific makes them with the most durable material on the market, and with the smartest minds on the market.
Contact 714-545-1838 to learn more about how Genie Scientific is right for you.