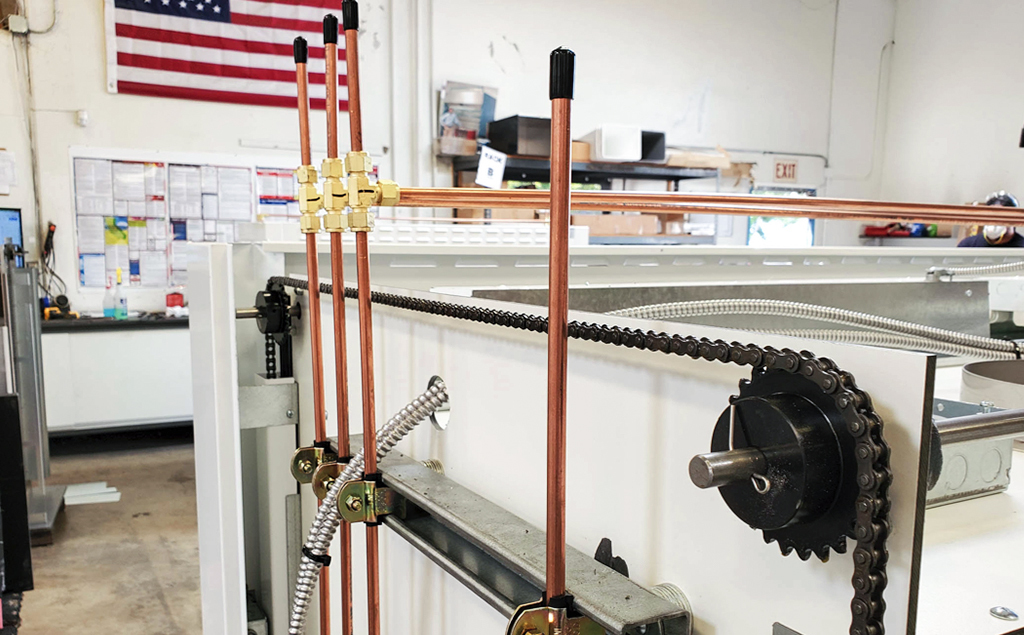 Service fixtures, Pre-Plumbed, Pre-Piped, Factory Plumbed, Factory Piped but what does it all mean?
This article is going to explain fume hood piping. Upon reading, you will now the different parts of a service fixture, how they are piped and most importantly why.  
Genie can equip fume hoods with a variety of services. Services referred to plumbing and electrical components like, electrical outlets, sinks, plumbing fixtures for gas, vacuum, air and water.
This article is going to talk about plumbing service fixtures for lab gases and water.
First off, what is a fume hood plumbing service fixture?
Simply stated: It is a plumbing fixture assembly made up of (4) components. 
Control Handle
Valve
Outlet Fitting
Supply Piping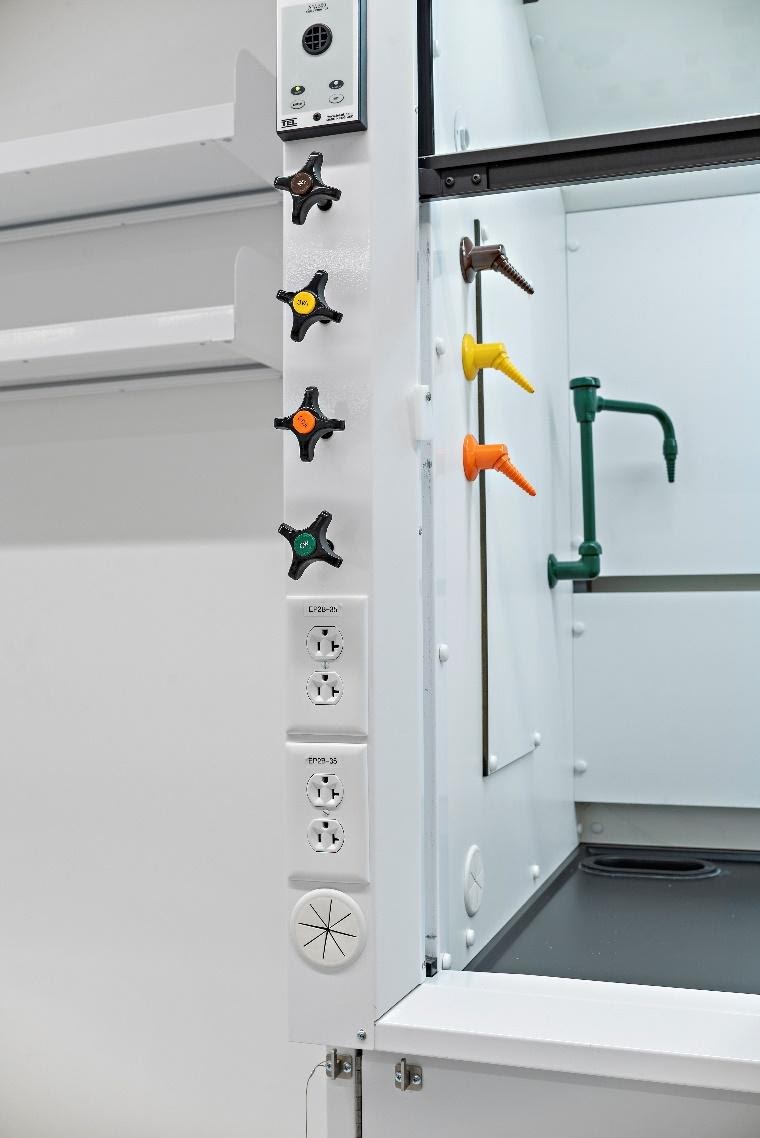 Control Handle
The control handle allows the user to safely turn the valve on and off from the outside of the hood.  They have a color-coded index button on the front of the handle to allow users to identify the correct service.
The handle is connected via control-rod through the front post of the fume hood into the fume hood side wall where it connects to the valve.  
Turning the control handle open and closed the valve. 
Valve
Factory installed in the fume hood side wall is the valve. 
The most common valve type is a brass needle-valve.  Valves can be made from stainless steel, tin lined brass or polypropylene.   There are also fine control needle valves and ball valves for ADA application, along with many different options. 
Valves have an inlet and an outlet.  The outlet is connected to an "outlet fitting" that is factory mounted to the interior side wall of the hood. The valve is accessible by removing the fume hood exterior side panel or the interior service access panel. Genie hoods come standard with an extra-large and easily removable interior service panel for easy access. Attached with (4) capped screws there are no frustrating gaskets to deal with.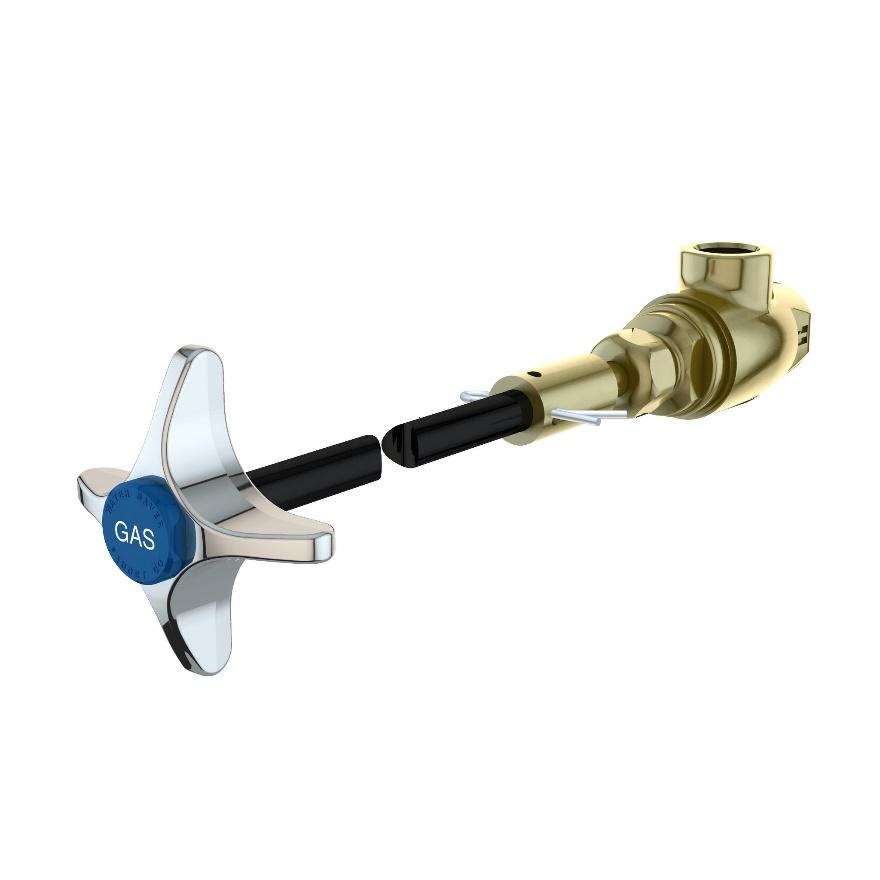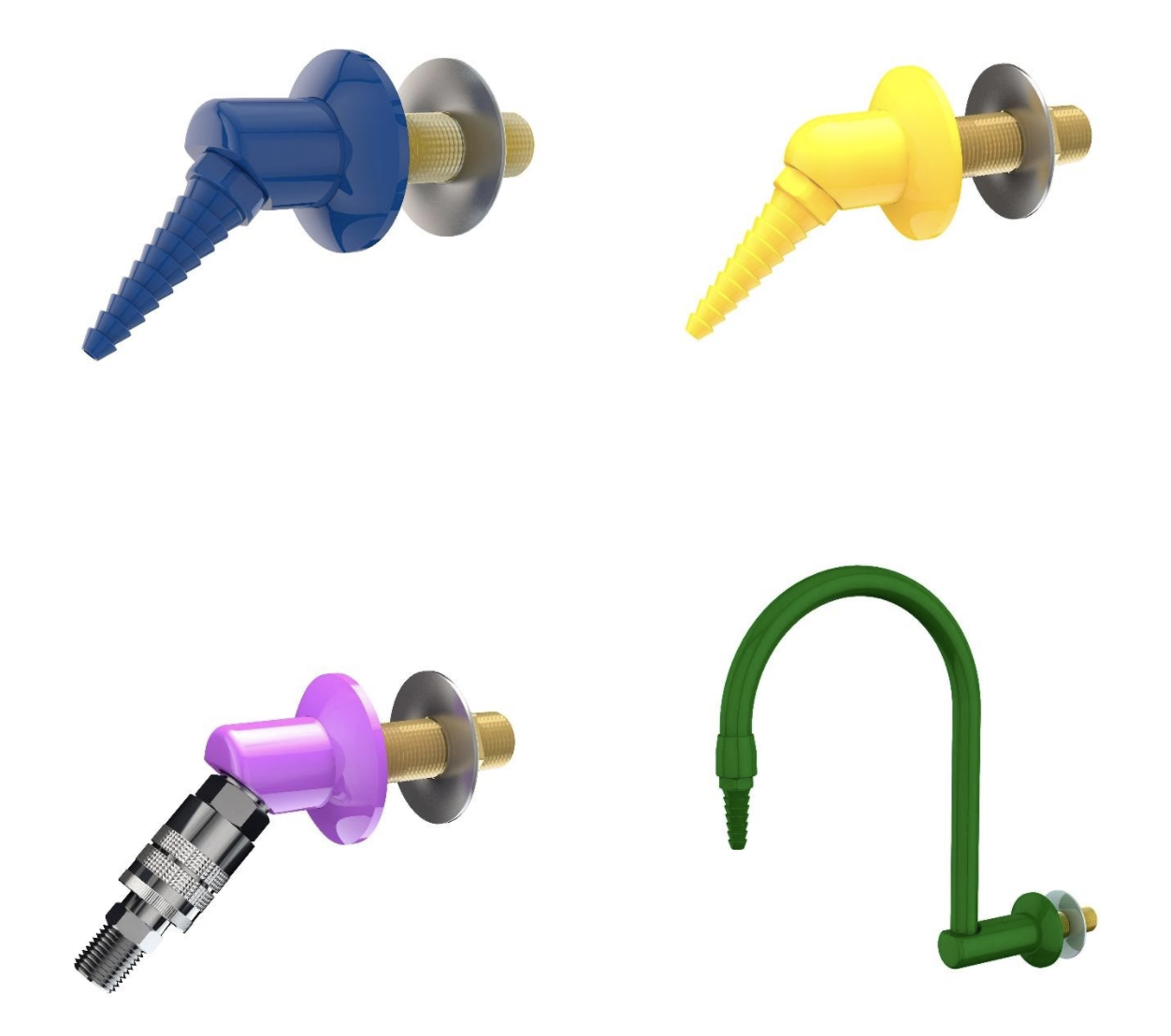 Outlet Fitting
The outlet fitting is the point of use connection inside the hood. 
Standard finish is powder coated brass, they also come in stainless steel, nylon, and polypropylene.
Outlet fittings come in a variety of styles.  Standard for gases is a 45-degree fitting with a serrated hose end.  A standard water fitting looks like a faucet and has a vacuum breaker. (Note: If you have a water fixture inside your hood most jurisdictions will require a cup sink to allow for drainage.) The outlet is fed when the valve is opened. The valve is fed from its inlet connected to the supply piping. 
Supply Piping 
This is where the term pre-plumbed/factory piped etc. comes into play.
In the factory Genie will connect piping to the valve inlet and run it to the top (or bottom) of the fume hood, standard is 4" above the hood. This is where the term pre-plumbed/piped comes from.  
Why do we do this?
It saves time and money.  Plumber only need to make the final connection from the building supply to the piping above (or below) the fume hood. The added cost of a plumber needing to open the sides of all the fume hood and pipe each valve is very expensive.  Some fume hoods can have as many as (10) service fixtures.  Genie believes in Lean manufacturing and construction principles; we always want to maximize factory time and minimize field time.  We go above and beyond our competitors and install a strip on heavy duty Unistrut that support or factory pipes with cushion clamps.

Factory Tested.  Genie fume hoods ship from the factory as a complete UL 1805 Listed unit.  Anything that is factory piped is tested to ensure there are no leaks.

Limits Trade Damage.  Fume hoods are finished product. Most trades are hesitant to touch other trades work especial a fume hood that requires the removing of finished panels to access the valves.  Factory piping helps eliminates this issue. 
Dual vs. Single Point Connection
Example: Picture a fume hood that has a Vacuum Fixture on the left and right post. There are two options.
Dual Point Connection
Each fixture will be piped up above the hood and the plumber will need to make a connection from the building supply lines on the left and right side. From the factory this is a less expensive options and standard.
Single Point Connection 
Single point connection is a more expensive option from the factory but can save time and money in the field. Genie will factory plumb the fixtures on the left and right to a single "T" fitting (customer to specific left or right side) so the plumber only needs to make one connection to supply both fixtures. (See Figure X)
Something to think about: Ensure the fume hood can fit into the room fully assembled or Genie will need to install union fittings so the piping assembly can be taken apart. A perfect example would be a walk-in style fume hood that is assembled in place. The unit would be fully assembled in the factory and tested.  However, it needs to be broken down for shipment then reconnected in the field. 
Piping Material 
Different services require different piping materials. The information below is Genie standard materials and methods. Different states, jurisdictions, and projects may require different means and methods. Please consult with your design professional and engineer of record to specify the correct materials.
The list below is ranked from least expensive to most expensive.
Water, Vacuum, Insert Gases
Standard: Type "L" ½" Hard Copper Tubing with Viega ProPress (Brass & Copper) Fitting Connections.
This is this the least expensive option, ProPress is a fast an efficient way to plumb and wide accepted for use with many different services
The tubing is not "cleaned & capped"
Option 2: Type "L" ½" Hard Copper Tubing with 95/5 Lead Free Soldered Connections to copper fittings.
Soft solder is the old tried and true way to make connections but can be considered "dirty" for some application due to the use of solder flux. 

The tubing is not "cleaned & capped"
Option 3:  3/8" ACR Copper Tubing with Brass Compression Fittings.
Also known as refrigeration & air conditioning tubing, ACR tubing comes "cleaned & capped" to prevent moisture and dirt from contaminating the inside.  Material is more expensive than ½" hard copper tubing 

Tubing is connected to the valve and elbow with a brass compression fitting (brand names like Parker and Swagelok)
Option 4: Stainless steel
Stainless steel ½" tubing with stainless steel Viega ProPress Fittings

Stainless steel 3/8" tubing with stainless steel Swagelok compressions fittings 
Burning Gases
½" Black Iron Pipe with Threaded Connections
Oxygen
Stainless steel ½" Tubing and stainless steel Viego ProPress Fittings

Stainless steel 3/8" tubing and stainless-steel compression fittings 
DI Water
As a standard DI Water cannot be factory piped

Under special request Genie can pipe with ½" stainless steel Viego ProPress tubing and fittings or 3/8" stainless steel tubing and stainless-steel compression fittings
Other
For unique or custom request, Genie can bring in a licensed 3

rd

party pipe fitter to the factory to plumb almost anything
Factory Testing
All valves come from the manufacturer tested to ensure quality. 
Genie tests all its piped assembles in the factory prior to shipment to ensure there are no leaks.
We look forward to working with you.